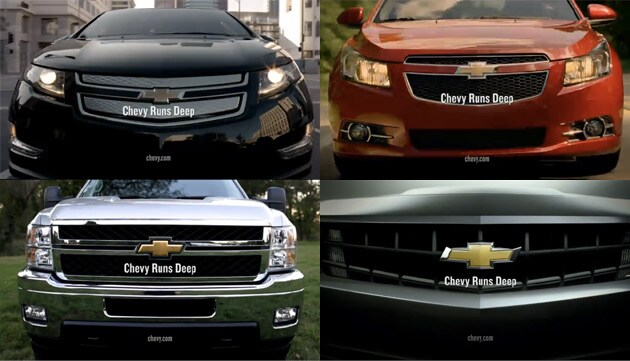 If you have been watching the World Series, you probably have seen the new Chevy Advertisement. The new campaign named Chevy Runs Deep. This ties in greatly with the heritage of Chevrolet and of Courtesy Chevrolet. With our 55th Anniversary it reminds us of time when Chevrolet and America stirred the heart.
Well, welcome to the new Chevy, a brand rich in heritage, but brimming with the latest products; from the New Camaro to the amazing new Crossover's of Equinox and Traverse, Chevrolet is brining America the products that made this 100 year old company a winner with the American public. Don't forget the hottest product on the lot the new Chevy Cruze! Courtesy Chevrolet even has a music rap video on this amazing new product.
Through the month of November - Courtesy will be celebrating our anniversary and sharing snap shots of Courtesy's past 55 years. With our iconic Courtesy Chevrolet Arrow that has lit up the Phoenix skyline all these years, we will be bring you a month of promotions, with Courtesy and Chevrolet giving back to the community, and our Chevrolet friends and family. In addition we will be launching the new promotion "Chevys-Giving-More", an exciting promotion were we will have our Toys for Tots drive, here we collect un wrapped toys to benefit local deserving children. This program is linked to our local Marine Corps. So with a month of new advertising and promotions, know that Courtesy and Chevy are giving more this year end!
If you enjoyed previous Campaigns from Chevy such as "See the U.S.A. in your Chevrolet", to "Our Country, My Truck" and not forgetting "An American Revolution" (post 9/11)- get ready for more great advertising from Chevy that will stir memories of American life.
Keep an eye out on our You Tube account as we will be posting through the month all the latest Chevy adverts - so if you want to great pictures of Chevy Truck and your dog with Hank Williams' singing "Move it On Over" or the first time you drove your first born back home in your Chevrolet. Great memories from the past to build and even stronger future. Welcome the new Chevrolet.